FAQ Participants
What you need to know
YETI will take place between 6th and 8th October 2017 (Friday to Sunday)
Participation fee:

60€ (50% less for FBAUP and FBAUL students); two free vacancies for youngsters with few opportunities.

What does it include?

Participation on the 3 days' event; participation certificate; participation on the final exhibition; 3 days' camping (from friday till monday) with access to hot water showers and sanitary.

What does it not include?

Meals; material to be used during the workshops.

How to arrive by car?

Get to Branca (Albergaria-a-Velha) through IC2/N1, following Oporto direction; already in Branca, facing north, turn right to "Barroca"; at the top of the road turn right: Quinta das Relvas' gate is the first on your left!

How to arrive by bus?

Take "Rede Expresso" bus till Albergaria-a-Velha; Pick ups' schedule will be arranged!

How to arrive by train?

Take a train till "Estarreja"; Pick ups' schedule will be arranged!

What to bring:

Laptop; towel; tent; sleeping bag; personal hygiene bio-degradable items (if possible). We have some tents to rent as well.

Where to eat?

We will have a snack-bar/meals service and a small shop working during YETI. Nevertheless you will find a bigger supermarket, bakeries and restaurants just 10 minutes walking.

Where to buy materials:

You can take your own materials with you. Nevertheless we will have a small Ponto das Artes' shop at the venue where you may find painting and drawing materials to use during the workshops! Final exhibition: At the end of the last day, the final session will be opened to the community so you may also meet some people to whom you can show your work and explain a bit about your experience at YETI. Nevertheless there will be a final exhibition reuniting all the work produced at the event including the name of every participant and the final documentary. This exhibition will take place some weeks after YETI at one of the municipality of Albergaria-a-Velha cultural services.
---
FINAL DOCUMENTARY
After the meeting we will make a documentary focused on the works presented and results achieved. This documentary will be shared on our social media and our partners' (town council, universities etc) and the lecturers will also be able to use it to promote their work in particular.

RESULTS
Quinta das Relvas doesn´t demand participants to leave their results at the farm (drawings, sketches etc). Nevertheless everyone is invited to participate on the final exhibition with this results (the openning will be on the 9th October at Albergaria's library).
---
Programme
| Schedule | 6th October (Friday) | 7th October (Saturday) | 8th October (Sunday) | 9th October (Monday) |
| --- | --- | --- | --- | --- |
| 8:00 | - | Breakfast | Breakfast | - |
| 8:30 - 10:00 | - | Lecture: Illustrated reportages (Tamara Garcevic) | Lecture: I want my hat - Narrative and Visual Storytelling (Joana Estrela) | - |
| 10:00 - 11:30 | - | Lecture: The book cover - a promise to the reader (Laura Fanelli) | Lecture: Tips and tricks! (Ausra Kiudulaite) | - |
| 11:30 - 12:00 | - | Coffee Break | Coffee Break | - |
| 12:00 - 13:30 | - | Lecture: A new Romanticism (Daniela Viçoso) | Workshop: Comics (Joana Estrela) | - |
| 13:30 - 14:30 | - | Lunch | Lunch | - |
| 14:30 - 16:00 | - | Workshop: Illustrated reportages (Tamara Garcevic) | Workshop: Cover for a famous book (Ausra Kiudulaite) | - |
| 16:00 - 17:30 | - | Workshop: Design the right cover! (Laura Fanelli) | Debate and presentation of future projects | - |
| 17:30 - 18:00 | - | Coffee Break | Coffee Break | - |
| 18:00 - 19:30 | - | Workshop: Minizine (Daniela Viçoso) | Get-together with the community / free time | Final exhibition vernissage at the Town Council's Library |
| 20:00 - 21:00 | Welcome session | Dinner | Dinner | - |
| ... | Conferencists' presentation | Free Presentation | - | - |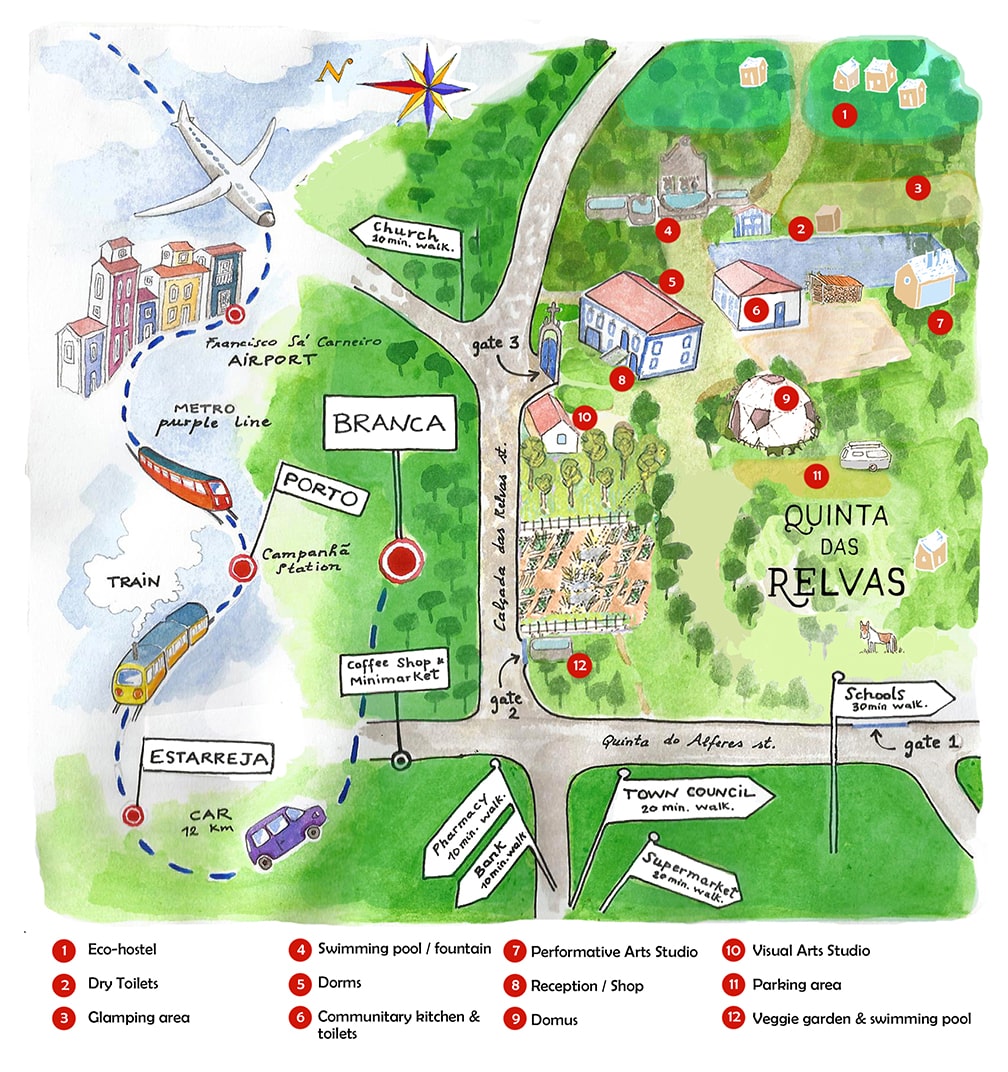 VENUE FACILITIES
conference/meeting domus
social area
beautiful forest and garden where to camp


shared bathroom with hot water showers
shop with art materials, groceries and souvenirs
snack-bar